Friday, January 28th, 2011 at 2:16 am
This review covers the Sharp LC-40LE821E 40inch Quattron LCD Television with LED backlight. The Sharp LC40LE821 is part of the revolutionary Quattron television range which is capable of generating the most life like colours ever seen.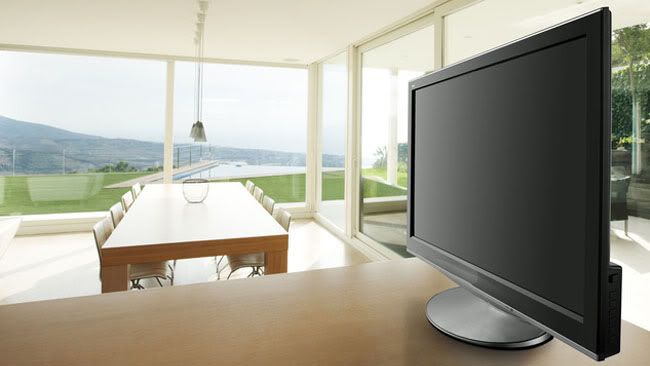 The new and Sharp exclusive Quattron technology is the worlds first four colour technology giving you 1000 times more colour than any other television on the market. The impressive Quattron technology in the Sharp LC40LE821 also integrates an X-Gen panel with LED backlighting in order to deliver unique natural colour variations put with reduced power consumption.
Another great selling feature of the Sharp LC-40LE821E is its fantastic built in Freeview-HD digital tuner. The Freeview-HD Digital tuner offers an alternative to enjoying free HD channels without the need of services like Sky or Virgin media.
The Freeview-HD tuner that is built in to the Sharp LC40LE821 40inch LCD TV works in just the same way as a standard Freeview tuner. All you have to do to receive the free HD channels and get the most of the Full HD 1080p panel is plug the Sharp LC-40LE821E in to an external aerial if Freeview-HD is available in your area. Unlike satellite and cable services like Sky and Virgin there are no monthly subscription fees or contract, and you will still receive the same 50 radio and television channels as well as the free to view high definition channels from the BBC and ITV.
Freeview-HD has become available now thanks to the nationwide digital switch over. There are parts of the United Kingdom that have not been switched over to digital yet, so please be aware of this a check your post code on the Freeview website.
A feature that separates the Sharp LC-40LE821E from the Sharp LC-40LE811E is that the LE821 series has a built in Time Shift function. Time Shift enables you to replay or pause programmes if you viewing is interrupted, ensuring you wont miss a thing. The Time Shift function allows you to record 150 minutes of standard television or 60ministes of HD footage.
The Sharp LC40LE821 40inch LCD TV with LED backlight features 100Hz technology which is great if you enjoy watching sports that are fast moving like football. 100Hz technology recreates images with twice the number of frames as standard television that normally run at 50Hz this result in smooth motion. Therefore when you are watching your favourite fast and action packed movie or sports like football or Formula 1, the picture on the Sharp LC-40LE821E will be smooth, crystal clear and have great motion.
The Sharp LC-40LE821 is also an environmentally friendly LCD Television featuring 7eco technology. 7Eco technology is Sharps solution with seven unique features to help in environmental conservation. Features of the 7Eco technology includes, X-Gen panel, LED brilliant, Eco Picture Control, main power switch, Eco button on the remote control, OPC and no-signal off/no-operation off functions.
Purchase a Sharp LC40LE821 today and you will not be disappointed by the high picture quality that is produced on this 40inch LCD television with LED backlight. No other TV on the market that has the capability of producing such dazzling colours; you need to see the Sharp LC-40LE821 in order to appreciate the high level of picture quality.
Click The Link Sharp LC40LE821, For More Information And A Low Price For This Great 40inch LED LCD TV With Freeview-HD Tuner.
Picture/Display
- 40inch  Diagonal Screen Size (Inch)
- 101 cm Visible Diagonal Screen Size
- 16:9 Aspect Ratio
- 176 Degree Viewing Angle
- 1920×1080 pixels
- 1080p resolution
- 720p resolution
- 100Hz
- HD Ready 1080p
Manufacturers Technology Features
- Aquos™ LCD Panel
Convenience
- Digital TV Ready
- Freeview
- Parental Lock/Parental Control
- Teletext
- 1000 Page Teletext Memory
- Sleep Timer
- EPG (Guide Plus+)
- Freeview-HD
Connections
- 4 x HDMI Connection/s
- 1 x RGB Scart Connection/s
Power, Weight & Dimensions
- 300 x 300 Vesa Universal Wall Bracket Fitting
- 23.5 Kg Unit Weight (Approx)
- 0.2 W Power Consumption
- 71 W LCD Power Consumption
- 993 x 659 x 275 Dimensions (W x H x D) With Stand
- 993 x 707 x 39 Dimensions (W x H x D) Without Stand
Sound and Vision TV and Home Cinema Stores
Sound and Vision Bolton
44-46 Higher Market Street
Farnworth
Bolton
Greater Manchester
BL4 9BB
Telephone: 01204 861 861
Sound and Vision Leeds
78 Armley Road,
Armley
Leeds
West Yorkshire
LS12 2EJ
Telephone: 0113 244 3030
Website: www.soundandvision.co.uk
Click The Link Sharp LC40LE821E , For More Information And A Low Price For This Great 40inch LED LCD Television.